Carrot Soup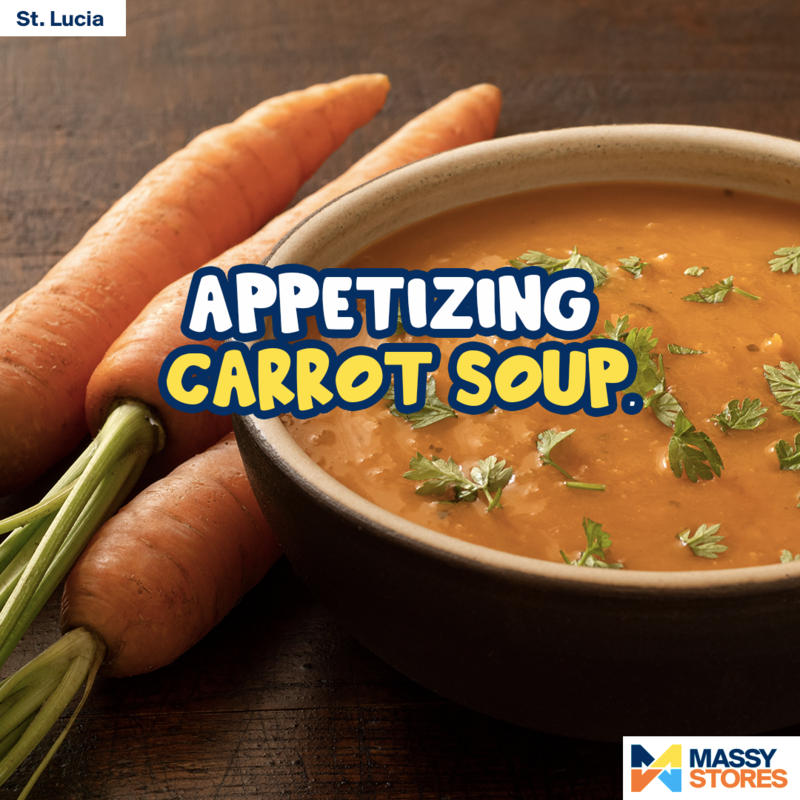 Add a delicious, soothing carrot soup full of nutrients to your diet for a high fiber digestive boost. It's a delectable treat you can enjoy guilt-free.
Ingredients
4 cups chopped carrots
3 cups chicken broth
½ onion, sliced
water to cover
4 cloves garlic, smashed
1 teaspoon dried thyme
2 tablespoons heavy whipping cream
Click here to shop for ingredients: www.shopmassystoresslu.com
Directions
Combine carrots, chicken broth, and onion in a large pot. Pour enough water into the pot to assure the ingredients are covered; add garlic, and thyme.
Bring the liquid to a boil, reduce heat to medium-low, place a cover on the pot, and simmer the mixture until the carrots are very tender, 40 to 50 minutes.
Remove pot from heat and cool soup for 10 minutes. Puree soup with an immersion blender or mash vegetables with a potato masher and whisk the soup until smooth.
Return pot to medium heat and cook until reheated, about 5 minutes. Stir cream through the soup.
Looking for more satisfyingly cozy soup ideas? Try this delicious https://massystoresslu.com/rotisserie-chicken-noodle-soup/ recipe.
Convenience is at your fingertips at Massy Stores. Choose Curbside Pickup or Delivery when you shop in-store or online at www.shopmassystoresslu.com.