Hot Cross Buns Recipe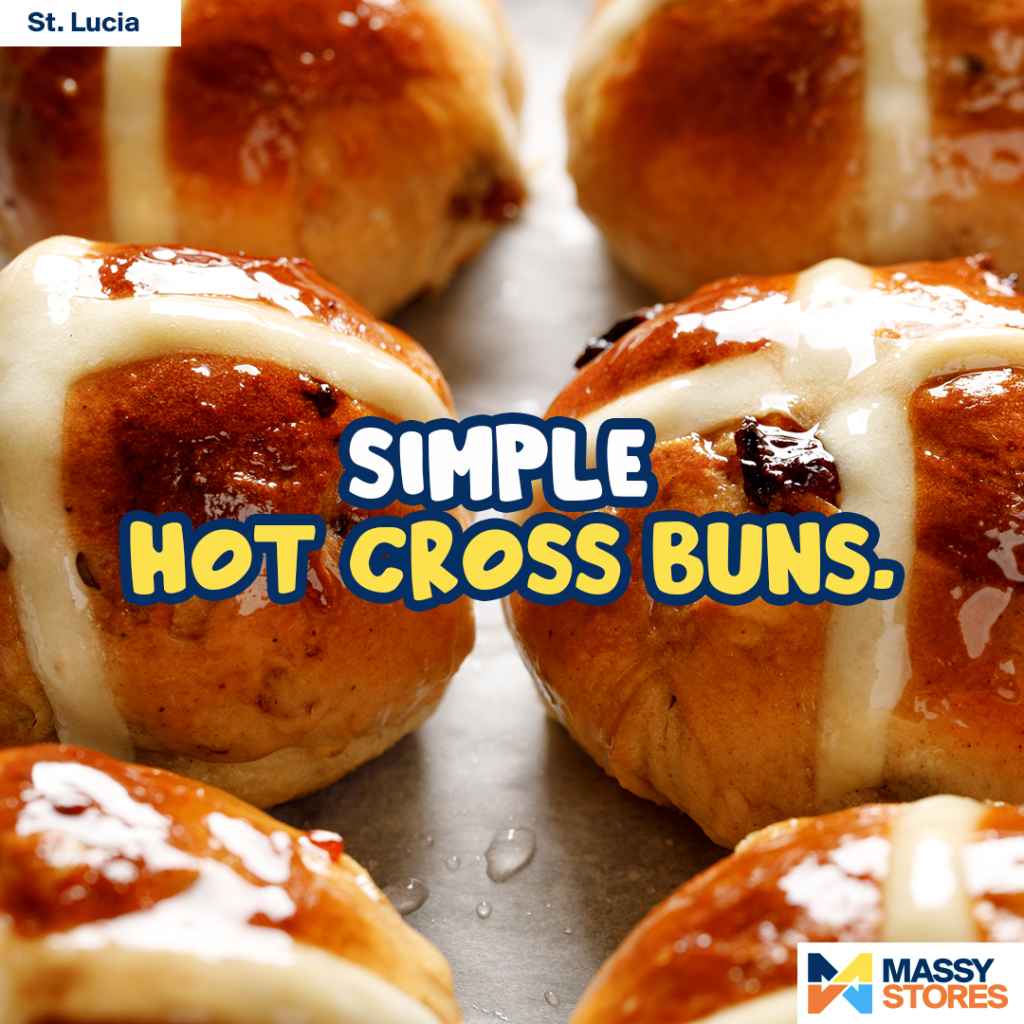 What is easter without the delightful Hot Cross Bun! Share this treat during the easter season but be prepared to make a second batch. It's an easter favorite that's devoured in a flash.
Ingredients
Buns
1 egg white
4 cups flour
1/2 oz dry yeast
1/2 cup granulated sugar
1/4 tsp salt
1/4 tsp ground cinnamon
3/4 cup warm milk
2 large beaten eggs
1 tsp lemon essence
1/4 cup unsalted butter
1/2 cup raisins/currants
1/2 cup of mixed fruit
1/2 cup brown sugar
1/2 cup water
1 tsp vanilla essence
Icing
1 egg white
1 1/2 cups Icing Sugar
2 1/2 tbsp milk
Click here to shop for ingredients: www.shopmassystoresslu.com
Directions:
Sift flour and add sugar, cinnamon, yeast and mix well. Add margarine and mixed fruit and combine. Set aside.
In a separate bowl, add egg and lemon essence to warm milk.
Add milk mixture to flour mixture, then add salt.
Knead on a floured surface for 10 minutes. Place in a greased bowl, cover and let rest for 1 hour.
5 Turn dough out and shape into 12 equal buns.
Place on a greased baking sheet and let rest 1 hour.
Bake at 325°F for 20 minutes.
Glaze:
Add brown sugar, water and vanilla essence to a pot and bring to a boil. Stir until all the sugar has dissolved and reduced to half.
Glaze buns while the buns are still hot and set aside.
For Royal Icing:
Beat egg whites until frothy.
Gradually add icing sugar until a desired consistency is achieved. Milk can be added if the icing becomes too think.
Make crosses on cooled buns and enjoy!
Convenience is at your fingertips at Massy Stores. Choose Curbside PickUp or Delivery when you shop in store or online at www.shopmassystoresslu.com.